We're on a mission to help small businesses become more sustainable. But Sustainability can be confusing, can't it? What counts as sustainable? Is it always about being environmentally friendly? Does what I do make a difference? As small businesses, we have many questions, and it can be challenging to find a straightforward answer.
One thing is for sure, small businesses (all 5.8 million in the UK) play a vital role in achieving Sustainability. An excellent framework to assist us as SME's is the 2030 UN Sustainable Development Goals.
The Sustainable Development Goals or Global Goals are a collection of 17 interlinked global goals designed to be a "blueprint for achieving a better and more sustainable future for all".
The Sustainable Development Goals (SDGs) were born at the United Nations Conference on Sustainable Development in Rio de Janeiro in 2012. The objective was to produce a set of universal goals that meet the urgent environmental, political and economic challenges facing our world.
These goals have the power to create a better world by 2030 by ending poverty, fighting inequality and addressing the urgency of climate change. Guided by the goals, it is now up to all of us, governments, businesses, civil society and the general public to work together to build a better future for everyone.
What does it mean to be Sustainable?
In business, sustainability refers to doing business without negatively impacting the environment, community, or society as a whole.
Sustainability in business generally addresses two main categories:
The effect business has on the environment.
The effect business has on society.
By understanding the 2030 UN Goals, we as small businesses can choose to commit to a goal or multiple goals that make sense for our business or resonate with us as business leaders.
For example, a local restaurant may select Goal 2: Zero Hunger and Goal 12: Responsible Consumption and Production to focus their Sustainability policy.
Here is what each goal means and action this may take:
Goal 2: Zero Hunger: To end hunger and ensure access by all people, particularly the poor and people in vulnerable situations, including infants, to safe, nutritious and sufficient food all year round.
Action: To ensure excess food is donated to a local organisation supporting the homeless or vulnerable with nutritious meals. This restaurant will support their local community, but by rescuing food waste, they also reduce their carbon emissions.
This restaurant may choose to partner with organisations that support ending hunger by asking their customers to add .10p to their bill, which could provide seeds to those in developing countries. An estimated 2 billion people in the world did not have regular access to safe, nutritious and sufficient food in 2019.
Goal 12: Responsible Consumption and Production: To achieve the sustainable management and efficient use of natural resources. By 2030, halve per capita global food waste at the retail and consumer levels and reduce food losses along production and supply chains, including post-harvest losses.
Action: The food sector accounts for around 30 percent of the world's total energy consumption and accounts for about 22 percent of greenhouse gas emissions. By reviewing the supply chain, this restaurant could choose to buy produce from responsible farms. They may also choose to print on their menus how their choices have reduced their carbon footprint. Providing customers with relevant information and awareness via their social media channels educates their community on sustainable development and promotes a lifestyle in harmony with nature.
The 17 sustainable development goals (SDGs) to transform our world: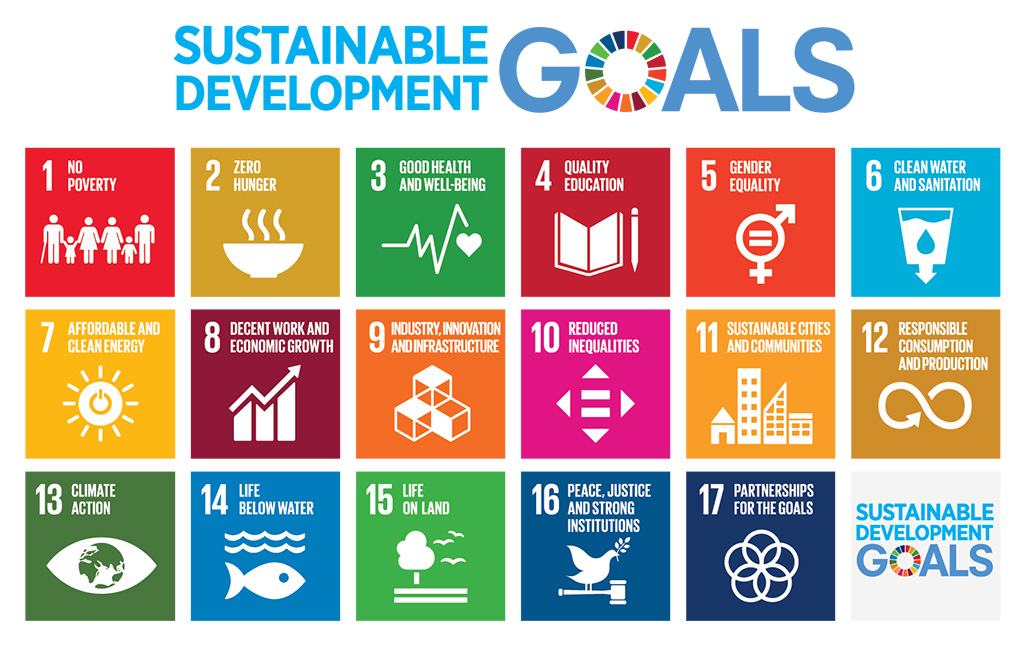 For those businesses wishing to implement a Sustainability policy that covers the whole UN Sustainable Development Goals framework, we have created a checklist of items across four key areas of business to work towards, including, Purpose, People, Environment and Community.
Let's begin:
Your Purpose
Have you written and published a Sustainable Business Strategy?
Do you use the UN Goals to shape your responsible business strategy?
Does your business have a clearly articulated purpose that demonstrates the role you play in society?
Does a member of your executive team have responsibility for environmental, social and governance issues?
Do you have a member of staff leading on your sustainable business activities (this can be just one part of their role but included in their objectives)?
Do you have a team committee that meet regularly to discuss your sustainability objectives and plans?
Do you have processes in place to request and monitor satisfaction feedback from customers/clients and other key stakeholders?
Do you consider environmental, social and governance factors when sourcing or finding new suppliers?
Do you consider environmental, social and governance factors when developing new products or services?
Have you achieved/received any sustainable business accreditation's or awards?
Have you achieved/received any sustainable business accreditation's or awards?
Your Environment
Do you have an environmental policy?
Do you have plans in place to reduce your environmental impact?
Do you currently measure your carbon footprint?

Do you have plans in place and a target date to reach net-zero carbon emissions?
Do you have targets in place for environmental impact reduction?
Have you considered setting science-based targets for carbon reduction for your business?

Has your business moved to a green energy supplier?

Are you considering/working towards moving to a green energy supplier?

Do you encourage your suppliers and customers to consider their environmental impact?
Do you have initiatives to support your employees to reduce their impact on the environment (cycle to work scheme, green travel etc.)?
Do you support any broader environmental initiatives (such as World Environment Day, Meatless Mondays etc..)?
Do you provide advice for your staff about reducing environmental impact when working from home?
Your People
Do you have a flexible working policy?
Do you have a diversity and inclusion policy?
Are you an accredited Living Wage Employer?

Are you working towards accreditation?

Do you have staff trained as Mental Health First Aiders or equivalent?
Do you have mental health and wellbeing initiatives in place for your people?
Do you measure diversity within your business with indicators such as the gender pay gap?
Do you have initiatives in place to promote diversity and inclusion within your business?
Do you have inclusive recruitment practices in place?
Do you run regular (at least annual) engagement surveys with your staff?
Your Community
Do you have a payroll giving scheme?
Do you arrange/support staff fundraising activities?
Do you make charitable donations (including gifts in kind, sponsorship and donations)?
Do you encourage and promote volunteering opportunities for your staff?
Do you encourage and promote skilled volunteering or pro bono opportunities for your staff?
Do you allow paid time-off for volunteering?
Do you have charity partners (charities or community groups that you support regularly)?
Do you measure and record your charitable and community giving (fundraising, donations and volunteering hours)?
Do you provide opportunities for young people, such as work experience and paid internships?
Do you have apprentices within your business?
Do you use insights from your community activities to inform how you run your business?
We encourage you to take stock of where you are today, and put some plans in place to work through this list. Some may take a matter of months, and others may take years to implement. What is important is that you are moving closer to becoming more sustainable.
How does climate change relate to sustainable development?
Climate change is already impacting public health, food and water security, migration, peace and security. Climate change, left unchecked, will roll back the development gains we have made over the last decades and will make further gains impossible.
Investments in sustainable development will help address climate change by reducing greenhouse gas emissions and building climate resilience.
Conversely, action on climate change will drive sustainable development.
Tackling climate change and fostering sustainable development are two mutually reinforcing sides of the same coin; sustainable development cannot be achieved without climate action. Conversely, many of the SDGs are addressing the core drivers of climate change.
Our final piece of advice is to take small steps. Becoming a sustainable business is a journey and will take time. Start small by writing a pledge on your website or committing to reviewing your current supply chain. By taking these small actions, you will move your business forward and positively affect the environment and our society.
Visit Website
Published: 24 June 2021