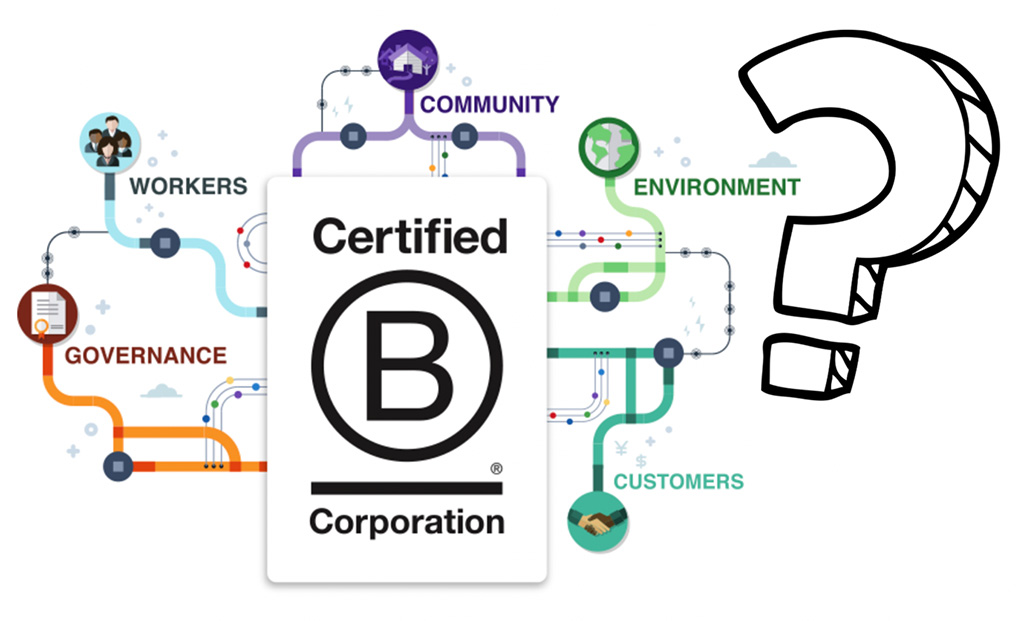 A Brief Overview
Certified B Corporations are companies that, the non-profit B-Lab, has ensured are meeting rigorous environmental, social and governance (ESG) standards. While the B-Corp certification shares similarities with the likes of the Fairtrade certification, the core difference is that the B-Corp certification is for the entire company not just a product line. Today there are 4,000 certified B-Corps spanning 153 industries and 77 countries all united by one goal: "to redefine success in business so that one day all companies will compete not just to be the best in the world but also to be the best for the world."
Any company wishing to become a Certified B-Corp must meet three standard requirements:
Verified environmental and social performance: Aspiring companies must score a minimum of 80 points or above on the B Impact Assessment.
Legal accountability: Certified B Corporations have a legal requirement to consider the impact of their decisions on all their stakeholders, such as their customers, local communities and the planet.
Public Transparency: All companies that achieve certification stage are required to publicly share their 'B Impact Report' on the official B-Corp website. The report provides a high-level summary of the company's performance per category. This level of transparency builds trust with citizens, communities, policymakers, and investors.
What is the B-Impact Assessment?
The B Impact Assessment is an easy-to-use online tool which assesses the environmental, social and governance impact of a company on a 200-point scale. Fundamentally, it turns the idea of using business as a force for good into a series of measurable and actionable steps. Throughout the assessment, which takes on average 3 hours to complete, you are provided with resources and best-practice guides to help you begin improving your performance. Most importantly, and best of all, the tool is free to use including the best practice guides and the individualised report.
As mentioned, it takes on average around 3 hours to complete a first draft of the B Impact Assessment and the key tip here is to keep moving, skip questions you don't know the answer to and make estimates. After all, the aim is to get a broad overview not to get a perfect one. As a small business the best person to complete the assessment is the owner / founder, as they will have a good understanding of the entire business operation. Many companies prefer to have an external guide to hold them accountable and receive best practice ideas and advice to completing the B Impact Assessment. Of course, you could do it as a team, but the key is for someone to be accountable for its completion.
On completion you will receive a score out of 200, most companies score somewhere between 40 and 60. If you are a start-up or a small company without many policies then it is likely that this will bring down your score. It is important to note, you can use the assessment without seeking B-Corp certification. However, companies wishing to certify are required to achieve 80 points as a minimum. While the assessment is free, the certification comes with an annual fee based on your company's annual revenues.
Regardless of whether you are seeking certification, the key with the B Impact Assessment is to use it as a guide on your path to becoming a more socially and environmentally positively impactful company. And remember, it is not about where you start, but where you are going and the steps you take along the way.
Why become a B-Corp?
Here is a high-level summary of the benefits to becoming a B Corp for your small business:
You join a global community of leaders creating a better world through their business. It becomes an opportunity to be part of something bigger than yourself, create new partnerships, innovate business opportunities, and share resources.
You will attract more talent and retain employees. Increasingly people are seeking a deeper sense of purpose in the work they do, being able to offer this by aligning your company with the mission of using business as a force for good will help you attract and retain the most talented of individuals.
You will build trust and credibility through your transparency. When price is equal, people don't want your discounts they want your humanity. Revealing your 'dirty laundry' alongside your crown jewels will help you connect with citizens, communities, regulators, and investors at a deeper level.
Gain a benchmark and improve your performance. Even if you don't certify this benefit still applies to you. The B Impact Assessment allows you to gain an understanding of the impact your business has on workers, customers, communities, and the planet, in turn allowing you to take steps to improving your impact.
A Quick B Impact Assessment:
Here are a few extracts from the official B Impact Assessment tool to give you an idea of what's asked and to get you moving:
Governance
What practices does your company have in place to promote ethical decision-making and prevent corruption?
What information does the company make publicly available and transparent?
Workers
What percentage of employees on an FTE (Full Time Equivalent) basis are paid at least the equivalent of a living wage for an individual?
How does your company engage and empower workers?
Community
- What percentage of your company's expenses (excluding labour) was spent with independent suppliers local to the company's headquarters or relevant facilities in the last fiscal year?
- Does your company screen or evaluate Significant Suppliers for social and environmental impact?
Environment
What percentage of energy use is produced from renewable sources?
Does your company monitor and manage your water usage?
To complete the full B Impact Assessment, click here.
Visit Website
Published: 13 December 2021